Community Profile

nordipalooza's Journal
A Nordic Fanwork Fest
Free Account
Created on 2015-03-05 01:48:13 (#2384693), last updated 2016-07-18 (61 weeks ago)
381 comments received
148 Journal Entries, 22 Tags, 0 Memories, 2 Icons

About
| | |
| --- | --- |
| Name: | Nordipalooza Fanwork Fest |
| | |
| | |
| Membership: | Open |
| Posting Access: | Select Members |
| | |

Mini Bio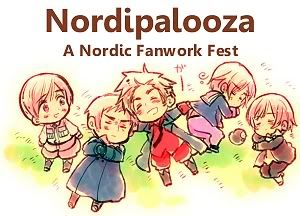 Welcome! This is the community for Nordipalooza, a fanwork fest focused on exploring all kinds of interaction between the five Nordic characters in Hetalia: Sweden, Finland, Norway, Denmark, and Iceland. Fanworks centred around the themes of family, friendship, rivalry, history, gen situations and romance are all encouraged!
For more information, please check the Introduction Post and FAQ. Signups for 2016 will open on May 8th. Even if you aren't able to participate, we hope that you'll still enjoy the fanwork!
Questions? Comments? Please leave a note in the FAQ post or send an email to nordipalooza [at] gmail.com and we'll get back to you as soon as possible!

Connect
Administrators

Members (15):
akinohikari
,
caffinatedstory
,
cheshirejin
,
danish_cookie
,
gelaecter
,
icelilly
,
kanadka
,
kiramaru7
,
nordipaloozamod
,
norvegiya
,
returnofthepundead
,
the_wizard_abs
,
wartales
,
winter_violet
,
yuuago

Subscribers (9):

Linking
To link to this user, copy this code:
On Dreamwidth:
Elsewhere: